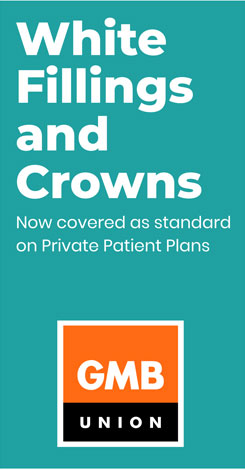 Additional Important Information.
Dental Plan Terms and Conditions
Dental Plan Policy Summary
Protego Group Key Facts
The above supporting documents are pdf files. To read the pdf files, you will need to have Adobe Reader software on your computer. If you do not currently have this software, it can be downloaded from the Adobe Website

Private Plan
Who can apply?
All GMB members and their families aged between 16 and 69 can apply to join this dental plan.
What will I be covered for?
100% of any dental bills covered by this plan up to generous annual maximums. There are many other dental benefits included, please refer to the Premium and Benefits Table below.
How do I claim?
When you arrange your dental appointment, simply call our claims line and we will send you a form for your dentist to authorise. Pay your bill, return the form with your receipt and you will be reimbursed.
I know I need a crown/filling now; will it be covered when I join?
No. We only cover new dental conditions that occur after joining and completion of the thirteen week qualifying period.
I have not been to a dentist for more than two years primarily due to Covid-19. Can I join the plan?
Yes - however, you will need to see a dentist and get any recommended treatments completed at your own expense initially. Claims for future visits and treatments can then be covered by your plan.
If I need a filling (or crown) I'd like white, not metallic or amalgam, will it be covered?
Yes, the Private plans cover white fillings and crowns.
When can I start using this plan?
There is a qualifying period of thirteen weeks from your first payment before you can claim (twelve months for dentures and denture repairs). After that you can claim as often as you need to, up to your annual maximum.
How long can I remain on this plan?
As long as you wish – you can stay on the plan and continue to benefit from it indefinitely.
How do I join?
Simply call the GMB Dental Plan helpline on Freephone 0800 037 2072 or apply below.
Private Plan Option 1
Private Plan Option 2
Examinations, scale and polish, X-rays
Up to £65 per policy year•
Up to £85 per policy year•
Fillings, root canal treatments, extractions,
crowns, bridges, dentures and repairs
Up to £265 per policy year•
Up to £345 per policy year•
Prescription items (per year)
6 items
6 items
Maximum claims limit per policy year
for the combined benefits above
As above
As above
PLUS In-patient cash per night
£40 per night up to 25 nights per year
£55 per night up to 25 nights per year
Accidental Damage Treatment
£1,110 per year
£1,660 per year
PLUS Dental emergency call out
£75 x 2 times per year•
£100 x 4 times per year•
PLUS Emergency treatment
£300
£400
Oral Cancer cover
£4,000
£6,500
£20.00
£29.00

*These benefits are doubled for Accidental damage treatment.